30 Tourist Attractions & Best Affordable Hotels in Dubai, UAE
November 3, 2017
30 Tourist Attractions & Best Affordable Hotels in Paris, France
January 2, 2018
The city of Zurich, a global center for banking and finance, lies at the north end of Lake Zurich in northern Switzerland. The picturesque lanes of the central Altstadt (Old Town), on either side of the Limmat River, reflect its pre-medieval history. Waterfront promenades like the Limmatquai follow the river toward the 17th-century Rathaus (town hall). There are many best affordable hotels in Zurich for the tourists.
Augustinergasse is a colorful old-world street, known for the carved windows of former merchants' houses. Shopping boulevard Bahnhofsstrasse is lined with high-end fashion stores and banks. Niederdorf is a popular nightlife area. The 9th-century Fraumünster church houses Marc Chagall's 1970s stained-glass windows, and the Grossmünster's tower has views of the city, lake and Alps. The Landesmuseum traces Swiss culture over thousands of years. Cabaret Voltaire, a cafe/bar that's still in operation, was the 1916 birthplace of the Dada art movement. Work by modern artists like Alberto Giacometti is on display at the Kunsthaus museum. From this article, you'll know about the 30 tourist attractions and the best affordable hotels in Zurich.
Best Affordable Hotels in Zurich
1. Hotel Kronenhof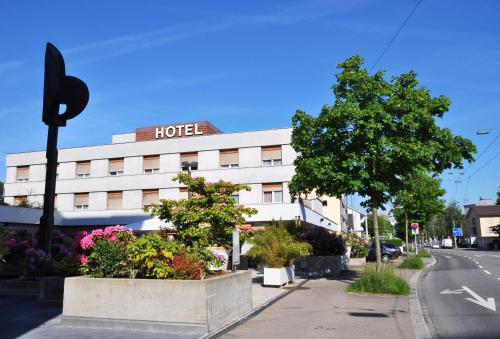 New-opening in September 2014, Hotel Kronenhof in Zürich offers newly renovated rooms as well as a restaurant and a bistro. Free WiFi is available throughout the building. Each room at the Kronenhof comes with a safe, a modern TV, and a private bathroom with hairdryer. A free bottle of still water is provided. Guests can enjoy coffee, tea and some baked goods for free. A small breakfast is offered for free, including coffee/tea, fruit and pastries. Swiss specialties can be enjoyed at the on-site Krone Restaurant, while snacks and cocktails are offered at the Chrönli Bistro. The Zehntenhausplatz Bus Stop (lines 32, 61 and 62) is right outside, and the Zürich-Affoltern Train Station is a 2-minute walk away. Garage parking is offered at the hotel.
2. Holiday Inn Express Zürich Airport
Offering a free shuttle service from and to the airport, the Holiday Inn Express Zürich Airport offers air-conditioned rooms with flat-screen TV and free coffee and tea. The airport is just 5 km away, and the Zurich fairgrounds are also close by. The centre of Zurich can be reached within 20 minutes, and the nearest train station is a 5-minute walk from the hotel. Every morning a breakfast is available between 4:00 and 10:00, and for dinner the Great Room restaurant serves light meals and snacks. In summer you can enjoy sitting on the terrace. The spacious bar/lounge is open 24 hours a day and offers a variety of drinks and snacks as well. Live sport events can be watched on a big screen.

3. Jet Hotel Zurich Airport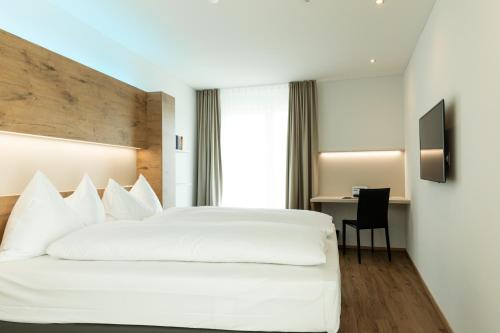 This new hotel is situated in Rümlang, just a short shuttle ride from Zürich Airport. All rooms at Jet Hotel Zurich Airport feature free WiFi and a balcony. Other standard room amenities at this 100% non-smoking hotel include a flat-screen satellite TV and a bathroom with shower, hairdryer and toiletries. Some rooms also have a kitchenette. A continental breakfast is provided each morning at Jet Hotel Zurich Airport. A supermarket and a restaurant can be found just a short walk away. Tea, coffee and water are available to guests 24 hours per day on a complimentary basis. Other drinks can be purchased at the reception of the Jet Hotel. Rümland S-Bahn train station is just 300 metres away, offering excellent public transport connections to Zürich and further afield. The shuttle bus to the airport is available for an additional charge.

4. Suite Apartments by Livingdowntown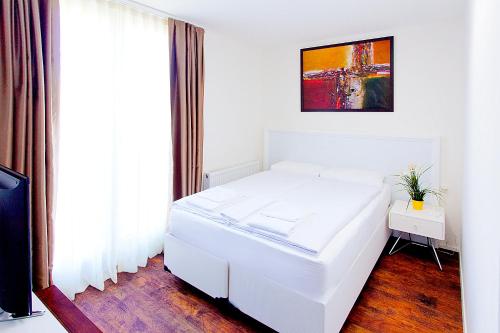 Suite Apartments by Livingdowntown offers an accommodations in Zurich's Albisrieden district, just 2.5 mi from the city center. The modern apartment has free WiFi and a balcony.

The Livingdowntown also offers a sleeping area, a dining area and a kitchen with dishwasher and coffee machine. Guests can use the garden with barbecue facilities.

A supermarket is 984 feet away. The nearest bus and tram stop is just 623 feet away.

5. XTRA Hotel
Located in the lively Kreis 4 quarter, the XTRA Hotel is a 10-minute tram ride away from the Zurich Main Train Station and the Bahnhofstrasse. It offers a vegan restaurant with a terrace and free internet access. All rooms have a private bathroom, a mini-bar, coffee and tea making facilities and a cable TV. The XTRA Hotel offers the Irish Pub Restaurant The Green Room. A disco club with frequent live music is located on site. Many restaurant and bars can be reached on foot within not more than a 15-minute walk.

6. Hotel Sunnehus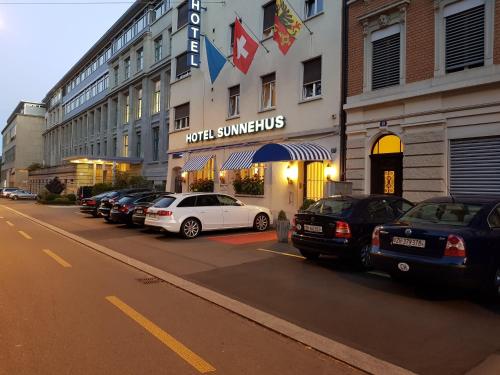 Enjoying a central location in Zurich, the elegant Hotel Sunnehus provides French Flair in the University Quarter of the city and is just 984 feet from the Old Town. Cultural attractions such as the opera, theaters, art galleries and concert halls are nearby. WiFi and wired internet is available in all hotel rooms free of charge. There are direct tram lines to the airport, the main railway station and the lake.

Summary
What are the tourist attractions in Zurich, Switzerland?
Grossmünster, Fraumünster Church, Bahnhofstrasse, Uetliberg, Swiss National Museum, Zoo Zürich, Kunsthaus Zürich, Lake Zurich, St. Peter
What are the best affordable hotels in Zurich, Switzerland?
Hotel Kronenhof, Holiday Inn Express Zürich Airport, Jet Hotel Zurich Airport, Suite Apartments by Livingdowntown, XTRA Hotel, Hotel Sunnehus