30 Tourist Attractions & Best Affordable Hotels in Vienna, Austria
March 21, 2018
30 Tourist Attractions & Best Affordable Hotels in Lisbon, Portugal
April 4, 2018
Cairo, Egypt's sprawling capital, is set on the Nile River. At its heart is Tahrir Square and the vast Egyptian Museum, a trove of antiquities including royal mummies and gilded King Tutankhamun artifacts. Nearby, Giza is the site of the iconic pyramids and Great Sphinx, dating to the 26th century BC. In Gezira Island's leafy Zamalek district, 187m Cairo Tower affords panoramic city views. There are many best affordable hotels in Cairo for the tourists.
On a hilltop above the city is the medieval Citadel fortress, site of Muhammad Ali Mosque, an Ottoman landmark. It overlooks the Islamic Cairo neighborhood, whose zigzagging streets feature significant architecture like the 10th-century Al-Azhar Mosque and massive Bab Zuweila gate. It's also home to the buzzing Khan el-Khalili bazaar and the Museum of Islamic Art. Highlights of the Coptic Cairo area include the Roman-era Fortress of Babylon, Hanging Church and Coptic Museum, which displays antiquities of Christian Egypt. After dark, social life thrives in countless ahwas, or coffeehouses. From this article, you'll know about the 30 tourist attractions and the best affordable hotels in Cairo.
Best Affordable Hotels in Cairo
1. Windsor Hotel Cairo
In a great location, just steps away from the Egyptian Museum and Khan El Khalili Bazaar, this hotel combines old world charm with modern amenities, including free wireless internet and continental breakfast. Windsor Hotel was originally built as baths for the Egyptian royal family and afterwards was used as a British officers' club. It retains its colonial features and ambiance to provide a charming base in Cairo. Its historic charm has also caught the attention of international movie-makers. Guests can enjoy relaxing in the sun on Windsor Hotel's lovely rooftop terrace. Those in Cairo on business will appreciate the excellent business facilities and the free wireless internet access. After a busy day of sightseeing or meetings, guests can relax in Windsor's popular Barrel Bar. Windsor Hotel is excellently located for Cairo's shopping district and visiting the nearby tourist attractions. It is well-serviced by the metro station just around the corner. Windsor can also arrange for guests to rent a car and guest parking is free of charge.

2. New Garden Palace Hotel
In the leafy Garden City district of central Cairo, New Garden Palace Hotel offers simply furnished rooms with a balcony, under a 5-minute walk from central Tahrir Square and the Egyptian Museum. All air-conditioned rooms come with a private bathroom with a bathtub tub and hairdryer. They also have a minibar and satellite TV. Room service is available. Guests can enjoy their daily buffet breakfast in the marble-lined lounge and restaurant. In the evening, it serves traditional cuisine and local delicacies, followed by a drink of choice at the English-style pub. For guests wanting to further explore the surrounding areas, New Garden Palace Hotel can arrange sightseeing tours and car rentals. It offers free private parking, as well as free Wi-Fi in the hotel's public areas. Sadat Metro Station (subway) is a short walk from the hotel. Airport shuttle service can also be arranged.

3. Horus House Hotel Zamalek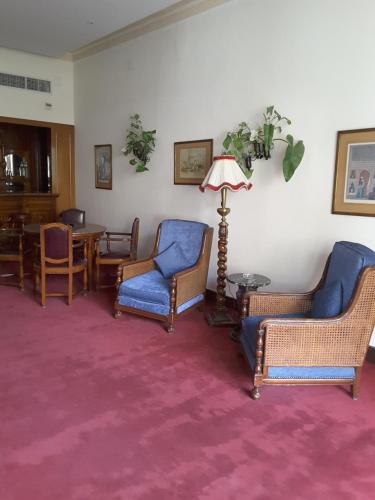 Just one mile from Mit Okba and Al Zamalek Stadiums, Horus House offers air-conditioned rooms with LCD TV and free Wi-Fi. Buffet breakfast, an outdoor terrace and ticket service are available. Horus House Hotel's rooms each have satellite TV and a work desk. A minibar is also provided, and guests can order in-room breakfast and room service. The staff at Horus House's 24-hour front desk are available to assist with currency exchange or airport shuttle arrangements. Express check-in/check-out is also offered. Hot buffet breakfast is available each day, and guests can enjoy a drink on hotel Horus House's outdoor terrace. Located in Cairo's quiet Zamalek district, Horus House Hotel is 1 mile from both Ramses Train Station and Gezira subway station.

4. Kanzy Hotel Cairo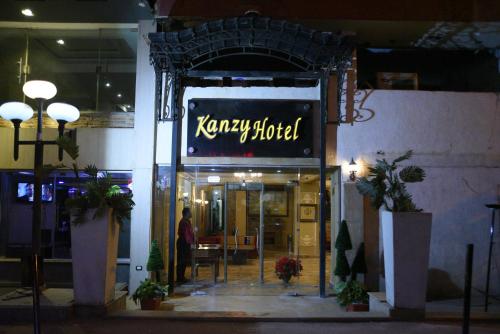 Located next to a number of attractions such as Khan Al Khalili and Katameya Heights, Kanzy Hotel Cairo is located in the district of Mohandiseen. It offers a sun terrace, a restaurant and a retail shopping arcade. All the rooms at Kanzy Hotel offer a city view. Each one features a small seating area with a flat-screen TV, a mini-bar and wardrobe. A shower is fitted in the bathroom. A 24-hour room service is available. The popular Opera House is within a walking distance from Kanzy Hotel Cairo. Cairo International Airport is 12 mi away. Private parking is possible on site.

5. Sakan 252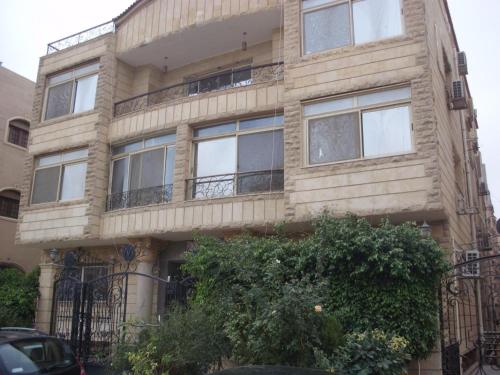 Located in central Cairo, Sakan 252 is a self-catering accommodations with spacious apartments. Free Wi-Fi access is available and the property is a 20-minute drive from Heliopolis. All apartments will provide you with a private balcony, a living room with a flat-screen TV and a dining area. There is a full kitchen with oven and a refrigerator. Private bathrooms also come with a bath. American University of Cairo is a 5-minute drive and Cairo International Airport is 20 minutes away by car. Surrounding info: McDonald's (restaurant) is 1969 feet away, Cilantro Cafe (cafebar) is 1969 feet away, Down Town Mall (market) is 1.9 mi away, Carrefour Hyper Market (generalsupplies) is 3.1 mi away and Cairo Festival City (market) is 3.1 mi away.

6. Havana Hotel Cairo
Located in Mohandesseen, one of Cairo's safest middle class districts, this 3-star hotel is in the heart of the city; in an area populated with restaurants, cafes and shops. The hotel is a 5-minute drive from the Egyptian Museum, Nile River and the Cairo Tower. The famous Pyramids and Sphinx in Giza are just a 15-minute drive away.

Summary
What are the tourist attractions in Cairo, Egypt?
Giza Necropolis, Egyptian Museum, Khan el-Khalili, Pyramid of Djoser, Cairo Citadel, Mosque of Muhammad Ali, Cairo Tower, The Hanging Church, Islamic Cairo, Luxor, Coptic Museum, Al-Azhar Park, Tahrir Square, City of the Dead, Mosque of Ibn Tulun, Pharaonic Village, Al-Azhar Mosque, Gezira, Mosque-Madrassa of Sultan Hassan, Abdeen Palace, Saints Sergius and Bacchus Church, Cairo Opera House, Manial Palace, Gayer-Anderson Museum, Ben Ezra Synagogue, Bab Zuweila, Mokattam, Giza Zoo, Museum of Islamic Art Cairo, Sultan Al-Ghuri Complex, Al-Hussein Mosque, Mosque of Amr ibn al-As, Baron Empain Palace, Bayt Al-Suhaymi, Al-Rifa'i Mosque, Aquarium Grotto Garden, Qasr El Nil Bridge, Church of St. George, Al-Hakim Mosque, Bab al-Futuh, Orman Garden, Qalawun complex, Bab al-Nasr, National Museum of Egyptian Civilization, 6th October Bridge, Rod Garden Faraj and rental boats Nile, Child Museum, Lebanon Square
What are the best affordable hotels in Cairo, Egypt?
Windsor Hotel Cairo, New Garden Palace Hotel, Horus House Hotel Zamalek, Kanzy Hotel Cairo, Sakan 252, Havana Hotel Cairo